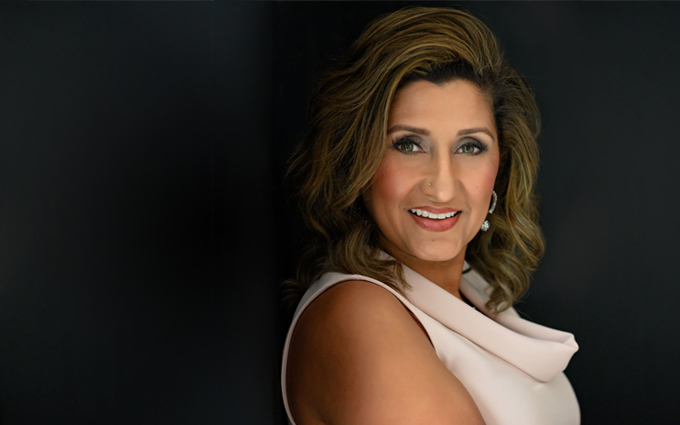 Dr. Uzma Ansari, a Potomac Falls dentist, graduated from the University of Alabama School of Dentistry in 1998 and soon after joined a group practice in Houston as their lead doctor.
In 2002, Dr. Ansari was nominated as the Headquarters Air Education and Training Command Junior Dental Officer of the Year and the 81st Dental Squadron Company Grade Officer. In addition, she received the Air Force Commendation Medal for Meritorious Service from 2001 to 2003. Upon her separation from the Air Force, Dr. Ansari was nominated for promotion to the ranks of Major. You can still see Dr. Ansari at the dental office in her BDU's on Veterans day as she proudly wears her uniform.
Dr. Ansari bought Lowes Island Dentistry from Dr. Hahn in 2012 and continued to work alongside him until 2013. Dr. Hahn was a cosmetic dentist with a great reputation for esthetic excellence. He had his crowns done by another dentist but wasn't happy with the result. During the transition, Dr. Ansari redid all his work and created the smile of his dreams. Working with Dr. Hahn established the trust factor and challenge of working on a colleague. As a result, he not only entrusted his dental office and patients to Dr. Ansari but also his own dental health and esthetics. Since then, Dr. Ansari has enhanced the smiles of many fellow dentists, notable community members and beauty queens in the Loudoun Area. Come into the office and check out her wall of fame. Her goal is to enhance your smile to a level of perfection, that if she were to have dinner with you, she herself could not detect fake looking teeth. The teeth have to fit your face, body, personality and look natural and beautiful. Dr. Ansari is truly passionate about the dentistry she does and you can see and feel it. She believes you can only treat what you see and you see only what you know. In addition to her own skill level, Dr. Ansari believes in investing in each team member.
At Lowes Island Dentistry, patients of this dental office have become accustomed to a high level of care in the hands of Dr. Ansari. Her commitment to the highest level of care is evidenced by her vigorous commitment to continuing education that has resulted in several awards and accolades throughout her career. She has received the Academy of General Dentistry Fellowship Award recently and has been a Visiting Faculty Mentor at the prestigious Spear Education Center and CERECDOCTORS in Scottsdale, AZ as well as the Virginia Common Wealth University, School of Dentistry in Richmond. Her passion to enhance the quality of Dental Care in the State of Virginia is evidenced by her exemplary role as the Continuing Education Chair on the Virginia Academy of General Dentistry Board where her mission was to bring quality education to the Dentists in the area so that we can enhance the level of care received by everyone in the State of Virginia.
Dr. Ansari spends many days out of the year training, learning and growing her team with world renowned trainers and consultants to carry out the vision of the highest level of care in a warm, friendly and energetic environment. She had met her husband, a child psychiatrist, while in dental school, and together they joined the US Air Force in 2001 and provided their professional services to service members and their families during Operation Freedom for six years. They were stationed at Keesler Air Force base in Mississippi and Andrews Air Force Base in suburban Washington, DC.