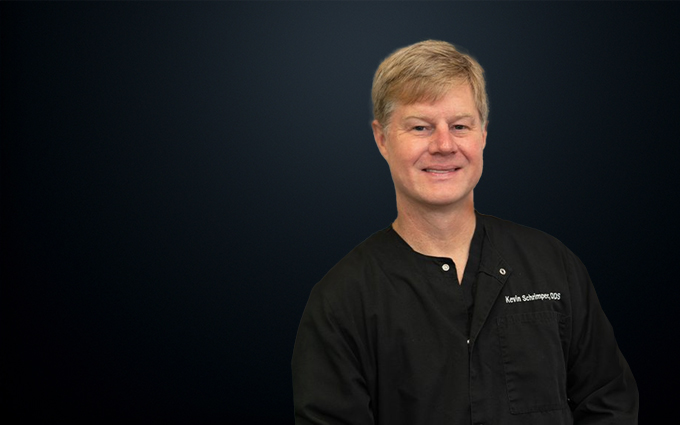 Dr. Schrimper has been working hard at improving smiles for well over 25 years so far!
Dentistry allows him to use both the problem-solving side of his brain and the artistic side every day, and he always finds it very rewarding to care for patients, whether they need help with escaping dental pain or simply feeling more confident about their appearance.
From a very early age, Dr. Schrimper's mother encouraged him to pursue a job in the medical field. She believed in him and wanted him to succeed more than anything, and that unwavering support has been a huge source of inspiration throughout his life.
As a kid, Dr. Schrimper also spent lots of time hanging out with his best friend's family – especially his dad, who was a dentist. Getting to see "behind of the scenes" of what it was like to have that job left a big impact on him, and soon enough, he found himself pursuing the same path. Today, he couldn't imagine doing anything else!
After completing his undergraduate degree at North Carolina State University, Dr. Schrimper pursued his Doctor of Dental Surgery at the University of North Carolina. Once he graduated in 1994, he began practicing right here in Rocky Mount, staying close to his hometown of Raleigh. Continuing education is a big passion for him to this day as well! He has completed many of the prestigious Pankey Institute's courses, as well as available trainings at the Nash Institute and Dawson Institute. Some of his main focuses include cosmetic dentistry, TMJ treatment, CEREC restorations, and root canal therapy. He is currently a ClearCorrect provider and a member of the American Dental Association and North Carolina Dental Society.
Dr. Schrimper spends plenty of time with his five children, who range from teenagers to grown adults in their mid-20's. Four are currently attending college at UNC Chapel Hill and UNCW. His father is a retired faculty member at North Carolina State University, while his mother has recently passed away. As for hobbies, he's passionate about music (particularly the guitar), watching college basketball/football (GO PACK) and the NFL, gaming, fishing, and keeping up with the latest documentaries/series on Netflix.